The Ghoul
is a fictional character created by
James Chivers
.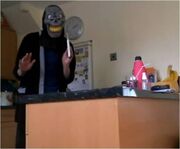 The Ghoul is recognised for his very distinguished voice and strange actions on YouTube. On the 13th March 2010 he appeared in a video series called The Ghoul Show which it was immediatly cancelled after an airing schedule. He was portayted by also creator James Chivers. James Chivers axed the character and decided to bring back the character in several months later and give him a new personality. The Ghoul was phased out from James's YouTube channel MrThesuperboy. Although James Chivers has still kept the first episode from the series on his channel, the second episode was never aired due to poor reception and popularity with viewers. James wanted The Ghoul to return, although he didn't want him to be like he was in The Ghoul Show. In September 2010 creator of the character James Chivers renamed him Satan in the film trilogy series Satan Strikes Again, Satan Returns and Satan VS. Jason. All three films in the Satan film trilogy series were filmed in September, and the first of the three installments is going to be released on YouTube in November 2010. Release dates for the other two films are unknown and are most likely to be released in 2011.
In 2011, James Chivers decided to show some clips from The Ghoul Show episode 2, which has never been fully aired on YouTube since the series's cancellation in March 2010. In James Chivers's new comedy sketch show series James's Infinite World Of Potential some clips were included in a few episodes.
Ad blocker interference detected!
Wikia is a free-to-use site that makes money from advertising. We have a modified experience for viewers using ad blockers

Wikia is not accessible if you've made further modifications. Remove the custom ad blocker rule(s) and the page will load as expected.