Miffy Chivers (2004 – 2007)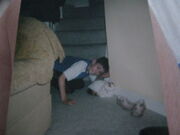 Miffy Chivers was born on a farm in Mattishall, Dereham Norfolk in 2004, and sadly died in a road accident in October on a Saturday in 2007.
Miffy was loved by her family, James, Kate and their mum Sally, they were very upset about Miffy's early death so they decided to put in a plant in the back Garden in Hedingham Road, Hornchurch where she sadly died. She is missed alot and remembered by her family.
Ad blocker interference detected!
Wikia is a free-to-use site that makes money from advertising. We have a modified experience for viewers using ad blockers

Wikia is not accessible if you've made further modifications. Remove the custom ad blocker rule(s) and the page will load as expected.