Satan "Donald" Satan (born June 6, 1966)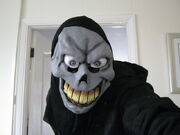 is a fictional horror character who has appeared in the Satan film trilogy series created by James Chivers. These films include Satan Strikes Again, Satan Returns and Satan VS. Jason and the Christmas movie special The Haunting Of Satan which features the character of James Harley who has a victim of Satan, who was killed in the first film Satan Strikes Again. James Harley walks through the snow at Christmas time as he hears Satan's voice in his head throughout the video, the last scene is shown when James Harley enters the house, which this scene is relevant to the next film in the trilogy Satan Returns, well James Harley is resurrected by Satan to be battle Satan for one last time, when he is killed for good. Satan is not based on the actual demon Satan, this idea was based on the Halloween films including a masked killer on the loose to start mayhem and cause havok. For the first time Satan will be reunited with another serial killer Jason Voorhees in the film Satan VS. Jason. Creator James Chivers has announced that one character in the film will win the battle. James has kept the results a secret for the viewer to find out who claims victory it is between Satan and Jason Voorhees. It is not sure if a fifth film will be released, since James Chivers hasn't talked about this subject yet. Satan was previously known as and was given the name The Ghoul but this character was erased and creator James Chivers started a new film series and renamed him Satan.
Filmography
| | | |
| --- | --- | --- |
| Year | Title | Role |
| 2010 | (Released in October 2010) | Satan |
| 2010 | (Released in March 2012) | Satan |
| 2010 | (Released in October 2011) | Satan |
| 2010 | (Released in December 2010) | Satan |
| 20?? | (Unreleased) | Satan |
Ad blocker interference detected!
Wikia is a free-to-use site that makes money from advertising. We have a modified experience for viewers using ad blockers

Wikia is not accessible if you've made further modifications. Remove the custom ad blocker rule(s) and the page will load as expected.