Satan VS. Jason Directed by James Chivers, is a 2010 film prequel featuring the masked killer Satan, and is part three in the Satan film trilogy series, it is the third sequel to Satan Strikes Again and Satan Returns.
Plot
The film begins as Satan starts looking around the harley household searching for previous victim James Harley who appeared in the first two sequels in the Satan film trilogy. Satan fails to find James Harley so he then approaches the stairs and all so sudden Jason Voorhees is standing in front of Satan. Throughout the film Satan and Jason Voorhees battle each other until one of the characters reaches victory. The Director, Creator and Main Cast James Chivers, announced there will be a winner, he has not announced it yet, he claims he wants the ending to be a surprise. The film began filming on the 30th September 2010 and was completed on the same day, 30th September 2010. The film is set for release on YouTube around 2011. So far no movie trailer has been released, James Chivers stated the film will not be released until 2011, he said it's a bit to early for a movie trailer. The film will be released on James's YouTube channel MrThesuperboy. The film was announced to be released soon on YouTube and filming had finished on the 30th September 2010. The film is awaiting a release date in 2011.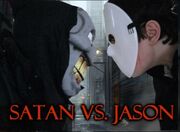 UK age Classification
In early October 2010, the film was reviewed by the JCCO (James Chivers Classification Office) previously the JCFCO (James Chivers Film Classification Office), the film was given a certificate of 15 for "strong language, moderate violence and scary scenes" by the JCCO.
Release Date
The film was released on YouTube on the 13th October 2011 for a limited time only of at least three days to watch. The film was scheduled for a re-release on the 16th March 2012. James Chivers has stated he has plans of re-releasing it again in the future.
The Cast In Order Of Appearance