Toby Lagden "Toby" Chivers (born February 20, 2010)
Is the family cat, who was adopted on the 18th April 2010 by the family. Toby was adopted from a pet shop called "Pet Store" in Collier Row, Romford, Essex. In June 2010 filming began of
The Toby Lagden Movie
and in July it was finshed with compiled clips with the best of
Toby Lagden
. On the 27th July 2011,
The Toby Lagden Movie
was uploaded onto Toby's
YouTube
channel
TobyLagden
.
Toby has already been face to face with other cats, which he always chose the safe descision by running away. Although Toby had a love hate relationship with previous next door neighbours cat Theo Davis. However Toby is fitting in with the family well, which the family is moving on since Miffy Chivers's passing in 2007. So far Toby has been introduced on James's YouTube channel MrThesuperboy and he has his own running series Garden Time With Toby The Cat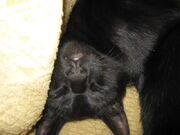 which aired two episodes (as of 15th March 2011), MrThesuperboy announced that he filmed up to four episodes, but no other episodes in the series have been uploaded due unknown reasons. Toby used to always pounces at mothers legs and bite them, the family thaught this was unacceptable, but they later found out this was Toby's way of playing. Toby Lagden has also made appearances in many film projects on YouTube including Satan Strikes Again and he has made other appearances.
Garden Time With Toby The Cat
On October 5th 2010, the creator of the series, fully announced that a second series of Garden Time With Toby The Cat with six episodes is scheduled for 2011. The second series is expected to begin filming in a differant garden setting in February 2011. Although series one has not finished airing, the first series will have a total of three episodes only, the two remaining episodes from series one will broadcast on YouTube in sometime in 2011 according to James Chivers.
On the 25th February began to start filming series 2 of Garden Time With Toby The Cat, he managed to finish recording a few episodes, several more episodes were scheduled to begin filming on March 2nd, but on the 26th February 2011, due to Toby's health and his wound, this was immediatly cancelled after the accident. He has no further plans on when filming will re-start. He has claimed "Filming of Garden Time With Toby The Cat is cancelled and will remain cancelled until further notice, due to the health of Toby, i'm not sure when i'll start having a go at filming again, but certainly not at this moment, well until he's stable, fit and ready and things go back to normal, filming may resume. It's best to wait and let him recover before getting into things to quickly".
The Toby Lagden Movie Sequel
In October 2010, the director announced a sequel to The Toby Lagden Movie. Although no further updates have been announced, so this film is currently a project and is not for certain that it will be ever released. James Chivers will most likely announce a sequel if he is in the making of one.
The Official Toby Lagden YouTube Channel
On the 29th October 2010, the creator decided to create a Toby Lagden YouTube Channel. It launched later in the day on the 29th October 2010. The channel has several videos available to watch, including The Day Toby Got Freaked, and it's sequel and various other videos. The Day Toby Got Freaked was filmed and recorded in the new Chivers family home in Boscombe Avenue in mid October 2010 and was uploaded on the 29th October 2010.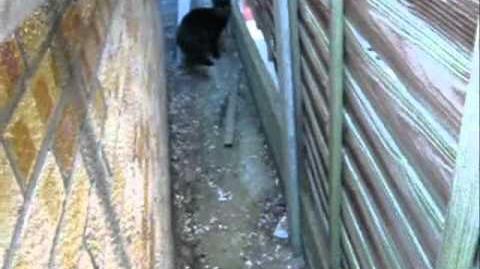 New House (October 2010-Present)
In October 2010, Toby Lagden moved into one of the new Chivers Family Homes, overall the creator stated in November 2010 "Well, overall Toby has settled in quite well, to be honist, although he was a bit freaked out when we first moved in, including the confusion with the new house". On the 20th December 2010, Toby Lagden entered the new Chivers family home, with a bloody paw, and he was partialy injured although since then he doesn't seem to be going through any pain, since he was eating as usual and doing things he usually does claimed the creator. All though the creator is still not sure what happened with Toby, he thaught another cat had been in a fight with him, earlier in the day James took an image of the cat before anything had happened to Toby, it was unexpected, James had thaught a cat belonging to the next door neighbours caused it (pictured below)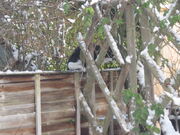 meanwhile mother thaught Toby had just cut his foot on something in the garden. The creator stated that Toby seemed physically stable, and he didn't seem particularly harmed in any other ways.
Around December 2010, a black and white cat began to bother Toby and visit him in the garden frequently, the cat doesn't really seem to bother him in any way, although Toby scares him off to mark his territory. The Black And White Cat does still visit the garden often. On April 14th 2011, The Black And White Cat's name was revealed, his name is Theo. On the 25th July 2011, Theo and his owners moved out from Boscombe Avenue.
Toby's Wound
On the 26th February 2011 (Saturday), Toby was picked up by mother and as she held him she and the creator noticed he was bleeding from the lower side of his body. As they noticed a deep gashy bloody wound on the left side of his body. Toby was not allowed to be let outside until further information on when to do so. Since the vets around Hornchurch were not open on Saturdays or Sundays, Toby was set to turn up at the vets on Monday the 28th February 2011 at 11:00am.
When Toby was brought back from the vets after being given many injections and being put on anesthetic, Toby was released from the animal basket wearing a buster collar around his neck. Toby was seen wobbling around the house due to dizzyness and the medication he was on, was making him unstable. Toby will be re-visiting the vets regulary. According to what the vet had said, the injury was a self incident and was most likely not caused by an animal and most likely an object of some kind. Since then, Toby no longer has dizzyness and clumsyness, he seems to be recovering well. On the 10th of March, Toby returned home with his stitches removed and finally his buster collar was removed and since then his wound is slowly healing with fur growing over it. The family decided that Toby could go out into the garden again on March 13th on a Sunday.
Filmography